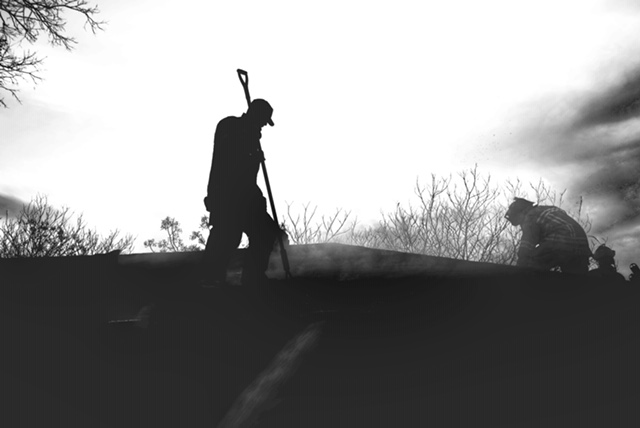 About WORK
WORK…
"The Fire Service has long been said to have its roots in the trades and the WORK conference has its aim at honoring those humble beginnings. From Lecturers speaking on where we are hitting/missing the mark in the service to quality reps based in skill, sweat, and most importantly WORK, there is something here for all in the fire service."
The Lone Star F.O.O.L.S. chapter of F.O.O.LS. International hosted the first event with extreme success in April 2018. We take aim to spread the art of firemanship with quality instruction and real life, skills-based scenarios from some of the best instructors from all over the nation. Lone Star F.O.O.L.S. donates all profits back into the Mike Rowe Works Foundation, a scholarship program aimed at getting people back into trades. Lone Star F.O.O.L.S. donated $13,000 in 2018 and we only aim to keep that number climbing, It is all made possible by you, the firefighter. Please join us on October 24th-27th 2019 for WORK 2019 in Austin, TX.
Frequently Asked Questions
What is WORK?
The Lone Star F.O.O.L.S. chapter of F.O.O.LS. International hosted the first WORK event with extreme success in April 2018. We take aim to hone our Craft with purposeful and focused instruction and real life, skills-based scenarios from some of the best Craftsmen in the fire service. Lone Star F.O.O.L.S. donates ALL profits currently to the Mike Rowe Works Foundation for scholarship programs aimed at getting people back into blue collar trades. This is simply our way of giving back to those industries that have played such a profound role in creating the American Fire Service. Lone Star F.O.O.L.S. donated $13,000 in 2018 and we only aim to keep that number climbing. This is only made possible by you, the firefighter, and we are grateful for your continued support.
When is WORK?
WORK 2019 will be held on October 24th-27th, 2019 in Austin, TX
When does registration open?
4/1/2019 at 12:00 CST
Where will lecture be held?
We are pleased to announced that Lecture will be held in the heart of downtown Austin, TX at Trinity Hall
How much does it cost?
Lecture: $200 HOT: $300 Both: $450
Can I take HOT or Lecture only?
Yes. You will have the option to sign up for your HOT track of choice and lecture individually.
Are there hotels blocked off for attendees?
There sure are! click here
Where is HOT going to be held?
Truck will be held at Travis County Fire Rescue at 9019 Elroy Rd. Del Valle, TX 78617. Engine and Building Construction HOT will be held at Round Rock FD training facility, which is located at 2801 N Mays, Round Rock, Texas.
What classes are available?
We are continuing our Engine and Truck track HOT classes this year. Two Engine tracks, and Two Truck tracks. Check back soon here and social media for an official list of classes for both lecture and HOT.
Who are the Instructors?
Aaron Fields

Sam Hittle

Larry Schultz

Brian Brush

Shawn Duncan

Mike Heeney

Michael Torres

Scott Kleinschmidt

Seth Taylor

Matt Rush

Jeff Diederich

Jerry Herbst

John Mattier

Chuck French

Lee Horst

Paul Johnston

James Johnson

Barry Franchi

Arthur Ashley

And more to come…
2019 Instructors:
Jeff Shupe- Cleveland FD (retired)

Aaron Fields- Seattle FD

Sam Hittle- Whichita FD

Larry Schultz- Alexandria FD

Brian Brush- Edmond FD

Shawn Duncan- West Metro FD

Mike Heeney- Austin FD

Michael Torres- Chicago FD

Scott Kleinschmidt- Wichita FD

Seth Taylor- Lewisville FD

Matt Rush- Austin FD

Jeff Diederich- Ohio

Jerry Herbst- Elkhart Brass

John Mattier- Cleveland FD

Chuck French-Tulsa FD

Lee Horst- Tulsa FD

Paul Johnston- South Adams County FD

James Johnson- Vancouver FD

Barry Franchi- San Jose FD (retired)

Arthur Ashley- Lexington FD

And more to come…
Lectures
Chief Larry Schultz
"Leadership Recollected
The Good, The Bad, The Ugly"
There are more books written on leadership today than any other topic, with social media serving
as the platform for every self-proclaimed fire service leader. The reality is, if it was as easy as
they say, we wouldn't have the problems we have. The fact is, regardless of whether you serve in
the role of chief officer, company officer, or firefighter, you are in fact a leader, and if you're
being honest with yourself, you struggle make sense of it.
Serving more than 35 years in every position from rookie to Operations Chief, I've made more
then my share of mistakes. What I can promise you is it wasn't from lack of love for the service,
and it wasn't from a deficiency in effort. What the experts rarely tell you is that leadership is
often practiced in extreme obscurity and resides mostly in the areas between black and white.
I've found that pieces of success for me came only after trial, error, missteps, and failures, but no
one ever tells you that.
As I travel the Country, 95% of what I hear from those of us in leadership positions, is how
challenging and discouraging it really is. This presentation will be anything but a "how to" class.
What I promise to do is be brutally honest about the good, the bad and the ugly of managing self,
and managing others. I offer a thought provoking, retrospective, and passionate view of life in
the fire department as a leader. My commitment is to be transparent and brutally honest about the
journey.
Capt. Sam Hittle
"The Extras"
Fire tactics, in the most rudimentary form, are driven by incident priorities via pre-arrival
assignments or through a command structure. They are simplistic in nature; we park the
apparatus, force entry, stretch lines, search, vent, throw ladders, and perform salvage and
overhaul. While functional concepts appear basic, tactical execution that is timely and efficient is
not. Our ability to manage the fire ground with calculated proficiency lies in the "extras". These
are the nuggets that ensure our apparatus are set up for Combat Readiness, tricks for offensive
and defensive positioning of the rigs, forcible entry techniques that ensure access, an approach to
line management that facilitates a rapid advance and knockdown, search considerations and
methods that can be adapted to the numerous situations encountered, horizontal and vertical
ventilation tips to control the environment, manipulating mechanical advantage for deploying
ladders, and meaningful tool modifications. Additionally, we will look at equipment pitfalls and
training best practices that are often taken for granted but have the potential to hinder operations.
The "extras" go beyond the academy with tried and true techniques that will enhance aggressive
fire tactics through decisive actions.
Retired FF Jeff Shupe
"The Fire Service I once knew...What happened to the basics?"
The basics of firefighting are the most important things a firefighter can possess. They are
what you will take with you. They are what you should be able to rely on in times of trouble.
They will make you safe and effective. Where do they come from? Mostly from your training
along with your knowledge and experience and from those you have worked with and learned
from over your career they never stop being necessary. This presentation looks at a career over
the last 45 years in an area of the country known as the "rust belt." We will look at history and
culture. We will look at fire grounds operations. You can look at the past and compare it to
today's fire service opinions and ways of doing things. You will see that this job is "all about the
basics!"
FF Aaron Fields
"Drilling for Function"
The scope of this class with be to examine skill acquisition models from both a technical aspect
as well as a cultural aspect. We will create a systematic and professional approach to skill
acquisition on an individual, company, multi-company, and departmental level. The hope is to
breakdown the technical aspects of skills into very simple and usable models that can be put to
use quickly regards of the skill set in question. One of the major problems that ails us in the
American fire service is not the skill level, the knowledge base, or the experience. But the ability
for us to be able to transmit that information on an individual and departmental level. We will do
a quick examination of physiology and psychology of skills, specifically to skills performed
under high stress environments with limited perception and diminishing fine motor skills. Along
with the technical aspects we will examine the common cultural truths and inaccuracies within
the fire service in regards to drill, skill acquisition, and education as a whole. We don't want to
teach people what they can do on the drill field, but what they should do on the fire ground.
H.O.T.
TRUCK H.o.t.
Before registering, PLEASE READ PREREQUISITES!!!
"Your Grandfather's Truck Class" is back at WORK again.
We are going to do something slightly different this year. This "truck" class will offer two distinct tracks:
Forcible Entry or Search/Ladders:
This is a beyond-the-basics class designed to elevate the student's value to their respective departments
on both the fire ground and in training evolution's. This course will provide information about and
demonstrate how-to build props as well, thus making this a true train-the-trainer program. Also, both
disciplines will be aggressively fine tuning skills, whether in forcible entry or search/ladders. This is not
a fundamentals class. Participants should expect to be challenged well-beyond basic proficiency for all of
day 1 and the first half of day 2. The second half of day 2 will be evolution's based, and students will be
applying learned/honed skills to scenarios while working in conjunction with students from the other
track. Participants can expect to leave with confidence in their ability to apply their skills at a high level
on the fire ground and to get it right in challenging environments.
Please read: As stated before, we WILL NOT be going back through the basics of these tasks. This
class is designed to hone skills and provide challenges to the seasoned firefighter in an effort to elevate
confidence and competency in the dynamic environments that we work in. Both courses are designed to
create departmental assets in the form of true professionals, ie: thinking firefighters that can make the right
call and perform when things get challenging.
Prerequisites for Truck H.O.T. :
Forcible Entry: (Sam Hittle, Lead Instructor) This is an advanced forcible entry class and is not designed
for entry-level FF's. We will be focusing on through-the-lock evolution's, rotary saw use and challenges
of commercial occupancies. Participants must:
-Be fundamentally sound with conventional forcible entry. (Day 2 Scenarios may require it)
-Be able to effectively handle the rotational and gyroscopic forces of rotary saws.
-Be able to work with a saw above your waist.
Search/Ladders: ( Lead instructors: Mike Heeney/ Mike Torres) This is an advanced-level Ladders course
and, again, we will not be covering the basics. We will work through more complex ladder challenges
and several common challenges we face during searches such as hoarder conditions, large victims, etc.
Participants must be proficient in the following skill sets to maximize this opportunity:
-Single-FF throws for a 24' Extension Ladder
-Two-FF throws for a 35' extension ladder
-Both oriented and wall searches
-VES
Engine H.O.T.
We will once again be offering two separate Engine Tracts
Tract 1: (Day 1) Jeff Shupe and Crew
"Engine Co. Operations, Roles and Responsibilities."
This hands-on class will go over 3 different size attack hand lines (1 ¾", 2", 2 ½" ) along with
master stream appliances. Students will review flows and hose line nozzle mechanics of each
size line and management techniques. Students will work on control and movement of attack
hand lines. Teamwork will be stressed along with company/crew concept which is important for
operational efficiency and accountability. Students will be grouped into engine companies and
will work in scenarios stretching and operating hose lines and appliances. Students will be
involved in scenarios stretching multiple lines to different objectives.
Day 2: Brian Brush and fire by Trade
"Initial Standpipe Operations"
Classroom session lays the groundwork by covering building systems, tactical considerations,
equipment selection and the initial line.
HOT program begins with flowing and operating the 2 1/2" attack line, making successful outlet
connections, building and deploying the Denver Fold attack system. The day concludes with getting the
first line in service given 3 scenario based drill stations; clean hall, dirty hall and fire in the stairwell.
Nozzle Forward
"Skillz and Drillz"
Tract 2:
(Two Day Class, Aaron Fields and the NF Cadre)
You must have taken a Nozzle Forward class in order to register!!!
We will continue in the same direction as last year. This class is designed to build off of what has already
been taught at Nozzle Forward and start to put things together and working different skills in
combination. The goal is to continue to challenge each other and grow a better understanding what's in
the box so that we can better adjust to those things outside of the box. We will also have the opportunity
to work with those who are instructing in their agencies on our teaching methodology, what we look for
when teaching these skill sets, and how we go about making those adjustments most effectively.
Building Construction H.O.T.
Building Construction
(Two Day Class, James Johnson and Berry Franchi)
"Apprenticeship: From Classroom to Construction "
The composition of today's fire service is drastically changing, with many of our firefighters no
longer having had experience within the construction trades prior to entering the fire service.
This hybrid class is a first of its kind. On day one, attendees will have the opportunity to gain
extensive knowledge about building construction within a classroom setting. On day two,
attendees will venture out into the field, participating in a hands on experience of framing a small
residential structure.
This class is designed for anyone who wants to increase their knowledge of building
construction, as well as for those that prefer to learn through physical hands-on application of the
subject.